15 Best Tortilla Wraps & Their Recipes 2023
This blog will introduce you to the best tortilla wraps that carry a delicious taste and are perfect for savouring during anytime of the day. For your convenience, the recipes, key ingredients, and preparation process of each wrap is discussed in a brief description. Without any further delay, Let us jump into details of each wrap.
1. Flank Steak Wrap
These flank steak wraps are made with flavorful marinated beef and fresh veggies swaddled inside soft tortillas.
it's the perfect low-fuss dinner or snack.
Ingredients
2 lb Flank Steak
1/3 cup olive oil
1 Large avocado
1 Small purple onion
12 Tortillas
Procedure
Before assembling the wrap, set aside 1-6 hours to allow the flank steak to marinate well. Without ample time to marinate, the wrap's flavor will not be as delicious.
Marinate the steak
Place the steak into a large ziplock bag. In a small bowl, combine the oil, garlic, salt, and pepper, then add into the ziplock bag. Let the meat marinate for 1-6 hours.
Dry the steak
After marinating, remove the steak from the bag and pat it dry with a paper towel. Preheat the grill to medium heat, then place the steak on the grill.
Grill the steak
Grill the steak for about eight minutes per side, or until internal temperature reaches 145°F. Once cooked, set it aside and let it rest for five minutes. Then, slice into thin strips.
Cut the veggies
Cut the lettuce into strips. Thinly slice the tomatoes, avocado, and red onion.
Wrap and serve
Assemble the wraps by placing a tortilla flat on the table, adding all the toppings, and wrapping. Or, serve the filling options on a tray to allow everyone to build their own custom wraps.
2. Grilled chicken Tortilla Wraps 
These grilled chicken wraps are perfect for a quick summer lunch. They are packed with flavor, really easy and quick to make, and perfect for packed lunches and picnics.
Ingredients
Chicken breasts
Seasonings
Tortillas
Cheese
Ranch dressing
Iceberg lettuce
Procedure
Season the chicken cutlets with smoked paprika, chili powder, garlic granules, salt and pepper Or use your favorite seasoning.
Heat oil in a pan or a grill pan or preheat your outdoor grill.
Place the seasoned chicken cutlets on the grill or pan, and cook on both sides until the chicken is cooked through. The internal temperature of the center of the chicken must be at least 165°F (74°C) use a kitchen thermometer to check.
Remove the chicken from the grill and allow it to rest on a plate for 5 minutes
Cut the chicken up, and assemble the wrap.
To assemble, on a tortilla bread, layer lettuce leaves, followed by the chicken, shredded cheese, and a drizzle of ranch dressing (extra ranch for me please!).
Seal the tortilla and place the wrap on the grill (or lightly oiled grill pan). Cook for a minute or 2 on both sides until its slightly warmed through, but the grill marks are visible. Remove and slice the wraps in half and serve.
3. Greek Grilled Chicken Hummus wraps 
This hummus wrap is an easy and delicious dish that's great for lunch and dinner. It has grilled chicken, feta, and fresh lettuce, tomato, and cucumber.
Ingredients
1½ lbs chicken breasts, boneless skinless
olive oil
salt and freshly ground black pepper
6 tbsp Greek vinaigrette dressing
4 flour tortillas,(10 inch, burrito size)
¾ cup hummus,store-bought or homemade
3 cups romaine lettuce,chopped
2 medium roma tomatoes,diced
1 medium cucumber,peeled and diced
½ cup feta cheese, crumbled
Procedure
Preheat a grilled over medium-high heat to 425 degrees F. Pound chicken to an even thickness using the flat side of a meat mallet.
Brush chicken breasts lightly with about 1 tablespoon olive oil, and season with salt and pepper.
Brush grilled grates lightly with oil, and grill chicken for about 6 to 8 minutes, rotating once halfway through cooking, until it registers 165 degrees F in center using an instant-read thermometer.
Transfer to a plate, cover with foil, let rest 10 minutes then dice into cubes. Transfer chicken to a bowl, pour vinaigrette over chicken and toss to evenly coat.
To assemble this tortilla wrap, spread about 3 tablespoons of hummus over each tortilla, top with chicken, lettuce, tomatoes, cucumber and feta cheese and wrap tortillas.
4. Healthy Lunch Tortilla Wraps 
Ingredients:
6 flour tortillas
8 ounces softened low-fat cream cheese
2 -3 tablespoons chopped onions
Procedure
Mix cream cheese, onions and ranch dressing mix in bowl.
Spread 2-3 tablespoons mixture on tortilla in a thin layer.
Place spinach leaves on tortillas.
Place 1 slice of ham on each tortillas.
Wrap up tortillas and put in plastic wrap.
Refrigerate 1 hour before eating.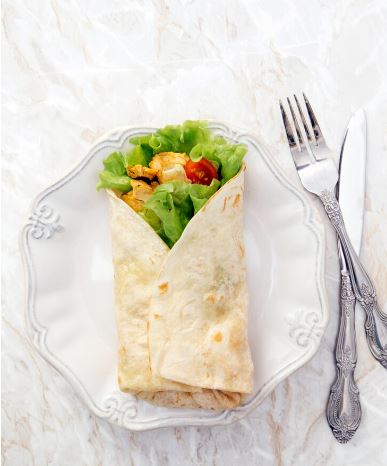 5. Slow cooker chicken Caesar wraps 
Ingredients:
4 boneless, skinless chicken breasts
2 cups Caesar dressing, divided
½ cup chicken broth
½ teaspoon garlic powder
¼ teaspoon onion powder
Kosher salt and freshly ground black pepper to taste
½ cup freshly grated Parmesan, divided
2 tablespoons chopped fresh parsley leaves
8 8-inch flour tortillas warmed
4 cups shredded romaine lettuce
½ cup croutons, homemade or store-bought
Procedure
Place chicken into a 6-qt slow cooker. Stir in 1 1/2 cups Caesar dressing, chicken broth, garlic powder and onion powder; season with salt and pepper to taste.
Cover and cook on low heat for 4 hours. Remove chicken from the slow cooker and shred, using two forks, before returning to the pot; drain excess liquid.
Stir in remaining 1/2 cup Caesar dressing, 1/4 cup Parmesan and parsley. Cover and cook on high heat for 15-30 minutes, or until hot.
Leaving a 1-inch border all around, layer each tortilla with chicken mixture, romaine lettuce, croutons and remaining Parmesan. Fold in sides by about 1 inch, then roll up tightly from the bottom.
Serve immediately this Caesar Tortilla wrap.
6. Buffalo & Chicken Tortilla wraps 
Ingredients
1 pound boneless skinless chicken breasts
2 Tablespoons olive oil
1/2 cup Frank's Hot Sauce
1/2 teaspoon paprika
1/2 teaspoon garlic powder and pinch of salt
4 large flour tortillas
1/2 cup Blue cheese or Ranch dressing
2 cups Romaine lettuces , chopped
1/2 cup carrot shredded
1/2 avocado, sliced
1/2 cup shredded cheddar cheese
Procedure
In a large bowl, combine the cooked chicken and buffalo sauce until the chicken is fully coated with the sauce.
Lay out the flour tortillas and divide the chicken evenly among the tortillas.
Top the chicken with lettuce, and ranch dressing.
Fold in the sides of the tortilla wrap and roll the wrap burrito-style.
7. South Western Tortilla wraps 
Ingredients
Chicken tenders
Flour tortillas
Lettuce
Tomato
Black beans
Corn
Shredded cheddar cheese
Mayonnaise
Milk
Salsa
Taco seasoning
Procedure
In a small bowl, stir together the tomatoes and cilantro. Set aside.Wrap 2 tortillas in paper towels and warm in the microwave for 20 seconds on high. Repeat with the remaining tortillas.
Scoop the drained black beans into a microwave safe bowl. Warm on high in the microwave for 1 minute. Stir to make sure the beans are heated through. Mash the beans with a fork.
To serve, spread 1/4 cup of the black beans on 1 tortilla. Top with 1/4 cup lettuce, 1/4 cup of the tomato-cilantro mixture and 2 tablespoons cheese.
Fold the sides and the bottom of the tortilla up over the filling, and then roll to close.
Garnish with 1 tablespoon sour cream and 1 tablespoons salsa.
8. Chicken Avocado Caesar salad Tortilla wraps 
Ingredients
For the wraps, you'll need:
Grilled chicken breasts
Romaine lettuce
Avocado
Grape tomatoes
Parmesan cheese
Burrito-sized tortillas
And for the homemade Caesar dressing, you'll need:
Plain Greek yogurt
Light mayonnaise
Olive oil
Anchovy fillets
Lemon juice
Worcestershire sauce
Dijon mustard
Garlic
Water
Salt and pepper
Procedure
Whisk together the Caesar dressing ingredients in a small dish.
Prep the wrap ingredients (slice the chicken, halve the tomatoes etc.)
Assemble the wraps, finishing with a drizzle of dressing.
9. Turkey BLT Wrap 
Ingredients
1 8-inch whole-wheat flour tortilla, at room temperature
1 tablespoon mayonnaise
1 large piece green leaf lettuce
2 ounces low- or reduced-sodium deli turkey
4 slices plum tomato1 strip cooked bacon
Procedure
Spread tortilla with mayonnaise.
Top with lettuce, turkey, tomato and bacon.
Roll, close the tortilla wrap and cut in half.
10. Crunchwrap supreme Tortilla Wrap
Ingredients
2 tablespoons olive oil, divided
1 pound ground beef
1 1.25-ounce package taco seasoning
4 12-inch flour tortillas
½ cup nacho cheese
4 to stada shells
½ cup sour cream
2 cups shredded lettuce
1 Roma tomato,diced
1 cup shredded Mexican blend cheese
Procedure
Heat 1 tablespoon olive oil in a large skillet over medium high heat. Add ground beef and cook until beef has browned, about 3-5 minutes, making sure to crumble the beef as it cooks; stir in taco seasoning. Drain excess fat; set aside.
Heat tortillas according to package instructions.
Heat nacho cheese according to package instructions.
Working one at a time, place the ground beef mixture in the center of each tortilla. Top with nacho cheese and tostada shell. Spread sour cream in an even layer over the tostada shell and top with lettuce, tomato, and cheese. Repeat with the remaining tortillas.
Fold the edges up and over the center. Continue to work your way around the tortilla wrap, folding as tight as possible.
11. Crispy Fajita Chicken wraps 
Ingredients
2 cups of cooked fajita chicken,
4 flour tortillas
1/2 cup sour cream, mayo or greek yogurt can also be used
1/2 cup of grated mozzarella, cheddar or mexican blend cheese
1 tablespoon oil
Cilantro, optional
Procedure
Prepare the one pan fajita chicken.
Pre heat a large heavy duty pan.
Place the tortillas flat on a clean surface. Spread about 2 tablespoons of sour cream on each tortilla, Top each with 1/2 cup of the fajita chicken mixture, Sprinkle each tortilla with cheese and some cilantro (optional). Wrap tortillas tightly into a burrito shape and placing seam down.
Add 1 tablespoon of oil to the pre-heat pan or skillet. Place all wraps in the pan seam down. cook for about 1 minute on each side or until crispy.
Remove from pan. Cut each Tortilla wrap in half. Serve with salsa or additional sour cream.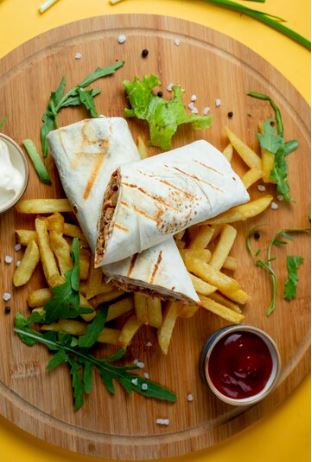 12. Bacon Cheeseburger Tortilla Wraps
Ingredients
1 lb raw 95% lean ground beef
1 tablespoon McCormick Hamburger Seasoning
4 Laughing Cow Light Queso Fresco & Chipotle Wedges, cut into pieces (can use another flavor)
2 tablespoon Ketchup
2 teaspoons Yellow Mustard
1/3 cup 2% shredded sharp cheddar cheese
2 tablespoon Hormel Real Bacon Bits
4 light original Flatouts
½ a medium tomato, cut into pieces
1 – 1 ½ cups shredded lettuce
Procedure
Bring a large skillet to medium heat. Add the ground beef and hamburger seasoning and cook until meat is browned. Drain meat. Clean skillet and set aside.
Place meat in a medium bowl and add the cheese wedges, ketchup, mustard, cheddar and bacon bits. Stir to combine. Microwave on high for one minute. Stir again until meat is evenly coated.
Spoon a quarter of the meat mixture (around 2/3 cup) onto the center of each flatout and spread the mixture lengthwise, leaving about an inch at each end.
Evenly distribute the shredded lettuce and tomato pieces across the top of the meat. Fold in the 1" ends of the flatout over the filling and then fold in the long ends to cover it.
Lightly mist the large skillet with cooking spray and bring over medium-low heat. Place the wraps fold-side down onto the skillet (I did them in batches of two) and let them cook for 3-4 minutes or until golden.
Flip the bacon caesar wraps and continue to cook until golden on the bottom. Cut in half and serve.
13. Folded Crispy Cheese and Chicken Tortilla Wraps 
Ingredients
2 tablespoons extra virgin olive oil
1 yellow onion chopped
1 pound boneless skinless chicken breasts, cubed
2 cloves garlic, chopped
2 teaspoons dried oregano
1 teaspoon ground cumin
1/2 teaspoon cayenne pepper, using more or less to taste
Kosher salt and black pepper
4 large (burrito size) whole wheat, or gluten-free, tortillas
2 cups shredded romaine lettuce
1/2 cup chopped pickles
1/2 cup chopped cilantro
4 tablespoons mustard
4 very thin slices of deli ham
1/2 cup shredded Swiss cheese
1/2 cup shredded pepper jack cheese
Procedure
In a large skillet, heat the olive oil over high heat. Add the onion and chicken and cook for 5 minutes. Stir in the garlic, oregano, cumin, cayenne, and season with salt and pepper. Cook another 5 minutes until the chicken is browned.
To assemble, cut down from the center of the tortilla to the edge. Spread the chicken in the bottom left corner, then add a handful of the lettuce, pickles, and cilantro on the top left corner.
Spread the mustard on the top right corner, add the cheese and ham. Fold the chicken over the lettuce. Then, working clockwise, fold that quarter over the ham. And finally, fold that quarter over.
Heat a heavy-duty pan or grill to medium heat. Coat with a light layer or oil or cooking spray and cook wraps for 1-2 minutes on each side or until the tortilla is crispy and golden.
Remove from heat, slice in half and bottom corner with cheese.
 To make the jalapeno sauce, combine all ingredients except the mayo in a blender. Blend until smooth. Now add the mayo and season with salt. Pulse to combine.
Heat a drizzle of olive oil in a skillet, add 1 wrap and cook 2-3 minutes per side until crisp and golden brown. Serve this tortilla wrap warm with jalapeno sauce.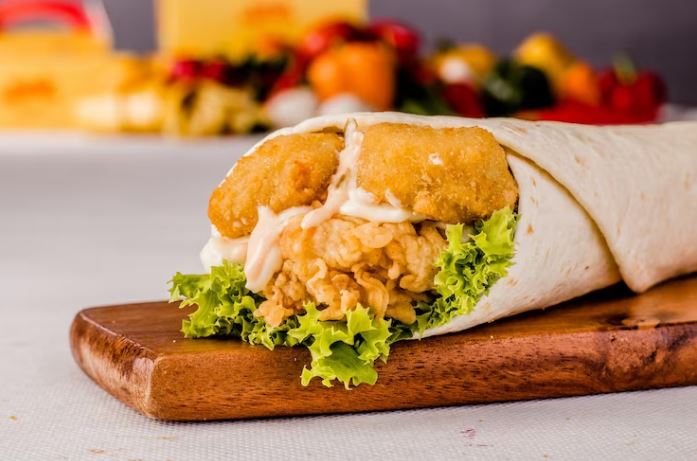 14. Tex Mex Breakfast Tortilla wraps 
Ingredients
1 pound ground beef
1 large onion (chopped)
1 teaspoon chili powder (mild)
1 teaspoon cumin (ground)
2 tablespoons taco seasoning
2 cloves garlic (minced)
14.5 ounce fire roasted tomatoes (1 can)
8 large eggs (lightly beaten)
¼ teaspoon salt
¼ teaspoon black pepper (ground)
14 Flatout flatbreads
2 cups hash brown potatoes (frozen)
1 cup black beans (rinsed and drained)
2 cups cheddar cheese (shredded)
¼ cup cilantro (chopped)
Procedure
Preheat the oven to 400℉.
In a large skillet add the ground beef, break it up then add the onion, chili powder, cumin, and taco seasoning. Stir well and cook for 3 to 5 minutes until the beef is no longer pink and the onion is translucent. Add the garlic and fire-roasted tomatoes and cook for another 3 minutes or until all liquid is gone. Transfer to a bowl. Drain the fat if any.
Wipe the skillet with a paper towel. Add the eggs, season with salt and pepper and gently whisk until they start to set and are cooked. Transfer to a bowl.
Assemble the wraps by layering ingredients on the flatbreads. Start with about 1 or 2 tbsp of hash brown potatoes, a couple of tbsp of beef mixture, 1 tbsp of black beans, 2 tbsp scrambled eggs, 2 tbsp cheese, and cilantro, then roll up tightly. Repeat with remaining ingredients. You should have enough ingredients for about 14 wraps.
Place the rolls seam side down onto a large baking sheet and bake for 10 to 15 minutes until heated through and the cheese has melted.
15. Chicken Ranch Tortilla Wrap
Ingredients:
2 cups cooked grilled chicken breasts, chopped (seasoned with your favorite spices)
1/4 cup Hidden Valley Simply Ranch dressing
1/2 cup mozzarella cheese
1/4 cup cilantro, minced (optional)
4 or 8 tortillas
Procedure:
Lay tortillas on a clean flat surface. Place about 1/2 cup chicken, 1 tablespoon ranch, 2 tablespoons of cheese, and 1 tablespoon of minced cilantro on each tortilla.
Fold tightly to form a burrito shape.
Heat a heavy-duty pan or grill to medium heat. Coat with a light layer of oil or cooking spray.
Now, cook wraps for 1-2 minutes on each side or until the tortilla is crispy and golden.
Remove from heat, slice in half, and serve immediately.